Air fryer crispy chicken!!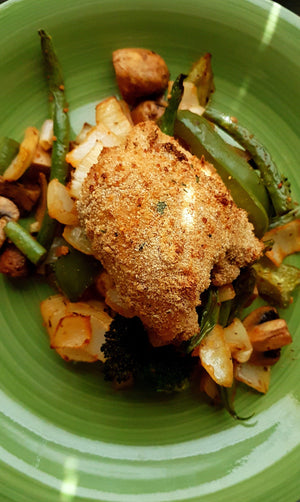 Yeah, we get it. December time, lots of unhealthy food, desserts. Waistline's getting bigger but you still have to eat your regular meals. 
We took a bit of a different approach to having crispy fried chicken but without deep-frying it in a pot full of oil. Air fryer is the answer to your prayers. Here is how we went about with it. 
Ingredients - 
Chicken thighs (4 to 6 oz boneless) - 5 pcs 
Low-fat buttermilk - 2 cups 
Paprika - 1.5 teaspoons 
Cumin powder - 1/2 teaspoon 
Coriander powder - 1/2 teaspoon
All-purpose flour - 1 cup 
Wholewheat bread crumbs - 2 cups 
Salt - 1 teaspoon 
Oil - 1 teaspoon 
Eggs - 2 large
For the vegetables -
Broccoli (florets)- 5 oz 
Onions (cut in squares)- 1/2 pc 
Green beans (halved)- 10 oz 
Mushrooms (quartered)- 10 oz 
Oil - 1 tablespoon 
Salt - as needed
Pepper - as needed 
Procedure - 
1) In a large bowl, add the chopped vegetables, mix with oil, salt, and pepper. Place in the air fryer at 400°F for 10 minutes. Move around occasionally. Set aside.
2) Combine buttermilk, paprika, coriander powder as well as cumin powder in a bowl, mix well. Add chicken thighs and set aside for a minimum of 6 hours to overnight. 
3) Set up 3 shallow bowls - 1- All-purpose flour, 2- Lightly beaten eggs with water, 3- Breadcrumbs. Remove chicken from marinade and drip off excess. Season chicken with salt. Drouse the chicken in flour and shake off excess. Dip in the egg mix. Lastly, coat the chicken in breadcrumbs. Oiling the fryer basket slightly, place the chicken in. 
4) Set the air fryer at 400°F for the chicken to cook. Internal temperature reaching 165°F. Turn the chicken half way (approximately at 6 minutes.)
5) Place the air fried vegetables and top with chicken. You have an option to drizzle with some hot sauce.