Holy CRAB!! It's a POTATO SALAD..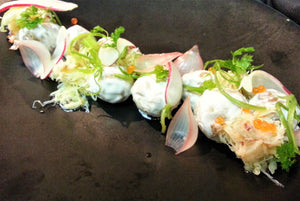 A lovely combination of creaminess along with sourness in this delicious potato crab salad. 
Ingredients 
Small potatoes - 16 pcs 
Lump crab can - 1 (6 oz) 
Shallots - 1 pc 
Cilantro - 4 to 6 leaves 
Radish - 2 pcs 
Sour cream - 2 tablespoons 
Extra virgin olive oil - 1 tablespoon 
Canola oil - 1 tablespoon 
Fish roe - 1 jar (optional) 
For the pickling liquid :
Water - 2 cups 
Apple cider vinegar - 1 cup 
Sugar - 1/2 cup 
Cloves - 1/2 teaspoon 
Black pepper - 1/2 teaspoon 
Mustard seeds - 1/2 teaspoon 
Bay leaves - 1 pc 
Salt as needed 
Procedure - 
1) Preheat oven to 400°F. Rinse and dry potatoes. In a bowl toss potatoes with oil, salt as well as pepper. Wrap in aluminum foil and bake for 20 minutes.
2) Insert a knife to check for doneness. Once the potatoes are done, remove and set aside to let it cool. 
3) In a pot combine the pickling ingredients, whisk and bring it to a boil. In the meantime, cut the shallot into half lengthwise and separate the layers. 
4) Slice radish lengthwise and set aside. 
5) Once the pickling liquid comes to a boil, turn off the heat and add the shallots in it and set aside. Once the liquid is at room temperature, refrigerate. Do not discard the liquid. 
5) Drain off the liquid from the canned crabs. In a mixing bowl, mix crab meat with 1 tsp of olive oil.
 For the presentation - 
1 - Toss the cooked potatoes with sour cream, salt, and pepper. Arrange on a cold plate as desired. 
2 - Spoon the crab mix on to the potatoes or on the side. 
3 - Remove the shallots from the pickling liquid and place 2 to 3 pieces across the plate. 
4 - Garnish with cilantro, radish, and fish roe (optional). 
It's not hard to wow your guests with such salads. All your preparations can be done in advance.