Arancini Risotto (Extra ooey gooey)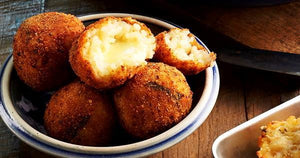 Arancini - commonly found on the streets of Southern Italy. Sold by street vendors hot and dripping with oil. Arancia literally means "orange" resembling the small size and golden crispy on the outside while soft and cheesy on the inside. A total party pleaser. 
 Ingredients - 
3.5 cups of chicken stock or vegetable stock 
4 tbsp unsalted butter 
1 onion, finely chopped (medium) 
3 garlic cloves, chopped 
1 cup arborio rice 
salt to taste 
1/2 cup of white wine 
3 oz finely grated parmesan cheese 
1 tsp finely grated lemon zest 
1 tsp freshly grated black pepper 
3 oz low moisture mozzarella cheese cut into 1/3" cubes 
2 cups panko 
3 medium eggs
Oil for frying 
2 cups sliced mushrooms (optional) 
Directions -  
1) In a medium pot, bring the stock to a simmer and keep warm on low. 
2) Heat 2 tbsp of butter in a medium pot, add onions, cook stirring often until soft and translucent. Add garlic and cook for 2 to 3 minutes. Do not brown. Add in the mushrooms and cook till the moisture is evaporated.
3) Stir in the rice, cook stirring often until the grains turn translucent. Add wine and cook, stirring often until the pan is almost dry. Add in a ladle of stock, bring to simmer, and cook stirring constantly. Add in another ladle of stock to the rice and keep stirring. Add the remaining stock and cook until the rice is cooked through in through. Remove from heat and add in the parmesan cheese, cream, lemon zest, pepper, and the remaining butter. Season the risotto with salt as per your need. 
3) Spread out the risotto evenly to help cool it down for the further steps. Chill for an hour (cover with plastic wrap to avoid a skin from forming on the surface)
4) Line another baking sheet with parchment, Scoop about 1/4th cup risotto into your hands and form a patty about 2 1/2" in diameter. Place 2 pieces of mozzarella cheese in the center and carefully pinch and shape the risotto into a round ball. Repeat with the remaining risotto and mozzarella. Freeze for 10 minutes. 
5) Place panko in a ziplock bag and crush with a rolling pin until fine crumbs form. Transfer into a bowl. Place flour in another shallow bowl. Beat eggs and place in the 3rd shallow bowl. Dredge the balls in flour, shake off excess. Transfer to bowl with eggs and coat evenly, let the excess drip off. Coat with panko and press gently. Transfer on to a sheet tray lined with parchment paper. Chill the balls while you heat the oil. 
5) Pour oil into a medium heavy pot. Heat oil to 350°. Carefully lower half of the rice balls into the oil with a slotted spoon and fry until golden brown. Transfer onto a paper towel to soak excess oil. Serve warm.