Bean there, done that!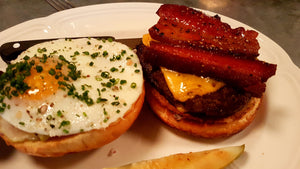 The homeplace for deep dish pizza, stand up comedians as well as the worlds first skyscraper, Chicago is like no other. Hence, it is very clear as to why one of the best restaurants in the world is located in Chicago.
I live to eat! I definitely checked out a few spots while in Chicago. My list is in no particular order.
The Purple Pig 
One of the best places to try out for a spin-off on the well crafted Mediterranean menu by Chef/Partner Jimmy Bannos Jr. There's usually a wait at The Purple Pig. Here's a tip: Grab a seat at the bar to avoid waiting in line. Not only does it help you save time, you also get to witness the operation of an open kitchen where all the cooks work in perfect harmony. 
The portions fit the price you pay. It definitely surpassed my expectations.  
Grilled octopus (Fingerling potatoes, Green Beans, Sals Verde)
Roasted Bone Marrow (Herb Salad, Sicilian Sea Salt) 
Milk braised pork shoulder (Mashed Potato & Puffed Farro)
Lou Malnati's Pizzeria
Lou's is a staple of Chicago with a bunch of locations throughout the city. This is a must try! Even if you're visiting Chicago for a short span of time, you need to try out Lou Malnati's deep dish. Be prepared to spend quite a bit of time since each pizza is made to order. It can take anywhere between 45 to 60 minutes for your order to arrive. Anyhow, the pizzas are top notch. Their crust is to die for! so buttery and crisp. 
BEATRIX
I'm really glad I stopped by this restaurant. Amazing interiors, fantastic service as well as excellent food. I was really impressed with Beatrix for all of its attributes.
Warm Pot Roast sandwich
Enchiladas with scrambled eggs, habanero, and kale.
 AU CHEVAL
The burger gets all the love at Au Cheval. Hence, people are ok to wait in line for over 2 hours just to get a seat at this diner-style burger joint. Its popularity hasn't affected the taste nor the service. The standards maintained at Au Cheval speaks for itself. I  was lucky enough to get a seating at the bar right away in spite of the wait. 
These guys are not just great for the burgers they pump out but pretty much the entire menu as I spoke with a few people seated right beside me mentioning that they have been regulars. They suggested I get a couple of other items mentioned in the menu, and I did!! 
Bone marrow with onion jam.
General Jane's honey fried chicken.
Behold, the burger with thick-cut bacon (OMG!! the bacon was out of this world)
Best seat in the restaurant where you get to see how it all comes together behind the line! 
 Too bad I didn't have room for dessert =(
PORTILLOS
Like most great things, hot dog holds a lot of significance in the history of Chicago. To experience this magnificent ordeal, you have to stop by at  Portillo's
This place was incredibly satisfying. I am a true fat kid at heart and Bombobar did not fall short in fulfilling my dessert cravings! Their desserts don't just look good but, taste ah-mazing!!  
All in all, I can assure you that you will never leave Chicago hungry!!