CHEFS BEYOND FOOD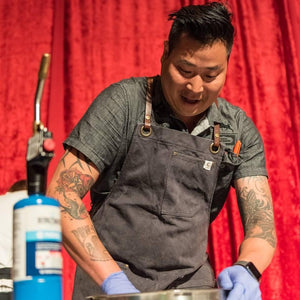 Chef Ben Alexender is the Executive Chef at The Tavern. When Chef Ben is not at the restaurant in his apron, he has his cape on for raising awareness for Congenital Heart Defect. He is the Vice President of 'Hearts of Steel Foundation'.
Each year approximately 40,000 babies in the United States alone are born with Congenital Heart Defects which also makes it the leading cause of their demise. Hearts of Steel Foundation work with babies affected by congenital heart defects (CHD) by raising awareness, organising events and financially helping families affected. The foundation took shape after Chef Ben and his wife Natalie (President of the Hearts of Steel foundation) experienced first hand of the hardships and struggle when their little gem, Sawyer Link Alexander was born diagnosed with CHD. With battling through the extreme lows and the struggles, the wonderful couple didn't leave any stone unturned. As a result, Sawyer's health has improved dramatically. 
In our everyday struggle, we forget how blessed we are for what we have. Donate to those who don't. 
For more information about this amazing foundation - click here.