Best Aprons made to fit your Style and Comfort!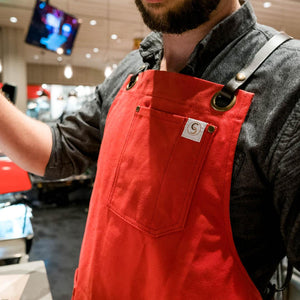 In 2018, 82% of Americans ate prepared meals from home, rather than dining out. 
Regardless if you are a chef or not, you've likely put in a good part of your time in the kitchen.
To prevent messes, burns, and sanity, you may want to consider getting an apron. 
Scroll down to learn how to select the best apron, along with other things you may need in the kitchen. 
1. Select Your Material
Finding the best apron begins with selecting a material first.
Our company offers a variety of different materials. Our red apron is made of leather, and we have others made from linen. 
Linen works well because it quickly dries and is less likely to pick up dirt and dust particles. Linen aprons typically stay cleaner than other options. But with enough effort, any apron can become messy.
Cotton is another popular fabric for aprons because it is soft and easily available. 
If you are working next to grills, ovens, or fire, you may want to get something more heavy duty though. Our leather aprons can be used in these extreme heat conditions, and around chemicals, to help keep your body safe.  
Plastic and rubber aprons can also be used in the cooking world. Dishwashers and cooks working with liquids can benefit from wearing a rubber apron. Waterproof aprons can be useful in many situations. 
Depending on your needs, you can select a preferred fabric or material to keep you safe and comfortable in the kitchen. Plus you'll stay clean and have a custom apron!  
2. Pick Your Color
Chef's Satchel aprons come in many different colors. 
Most people in the food industry, wear white or black aprons. If you want to be bold and professional, you should consider going with a red apron. Gray is also another popular color for aprons. 
We also have a basil apron that is a unique shade of green. 
One of the purposes of aprons is to keep yourself clean. Having a clean apron shows that you are neat and tidy in the kitchen. 
Aprons were originally used as a symbol of generosity and hospitality. Keep this in mind when picking a color for your apron. Your guests shouldn't be distracted or alarmed by the color you choose if you are in a professional setting. 
At the end of the day, the color of your apron is your choice, just be sure that you don't sacrifice your needs for a particular color.  
Don't be afraid to show your personality in and out of the kitchen! 
3. Find a Preferred Style
Now that you have an idea of the material and color that you want your apron to be, you must decide on a style.
Server aprons are popular because they tie around the waist and protect the top of the pants. They hold materials needed to do a job and can also carry spoons, whisks, and salt! 
If you are looking for full coverage, our canvas aprons are recommended. They protect the chest area down to legs and have leather straps that cross behind your back. They come with 3 pockets and a strap to hang equipment off of. 
Our cotton strap canvas aprons are much like the leather strap ones, however, they aren't as heavy-duty. The material is much softer and it ties at the waist and neck. 
The linen apron that we offer is much more unique than the rest. This one ties in the front and has a leather strap that wraps around your neck. It includes 2 large pockets and is comfortable all day long. 
Before selecting the style, be sure to consider your needs in the kitchen.
Some aprons have multiple pockets to hold your things, while others are there to keep you clean and looking professional. 
Other Things You Need for the Kitchen
There are many tools that a cook or chef uses in the kitchen.
Chef's Satchel chef coats are one of the best alternatives to aprons if you want to look more professional. Our company offers them in gray. They are durable, comfortable, and even stylish!
Good quality knives are a more expensive item needed in the kitchen. We have put together a list of the best kitchen knives for chefs and cooks. 
If you want to look more professional, you should consider getting a leather knife roll. Our knife roll is a storage area for your sharp tools made of top grain leather. It helps protect them from getting damaged or dull and also prevents you from losing any of them.
Depending on the type of kitchen, you cook in, you may need other tools. Knives, coats, aprons, and cutting boards are a few of the most used items in the kitchen.
Consider your needs before making any final decisions. 
Our blog has many articles and guides on how to utilize all of these tools in the kitchen. Don't be afraid to check them out!
Have the Best Apron in the Kitchen 
Picking out the best apron isn't as simple as looking at the price tag or color. 
There are many factors that you should consider when you want to buy an apron.
Materials and fabric play a large role in determining the type of apron to get. The next time you have Guittard chocolates, you  
At the end of the day, you should pick the apron that you feel most comfortable in. It should protect you and help keep you clean. 
Be sure to check out our blog for more articles about the culinary world and the latest trends in the industry!