Brine Baked Crispy Chicken, oh we know you want it!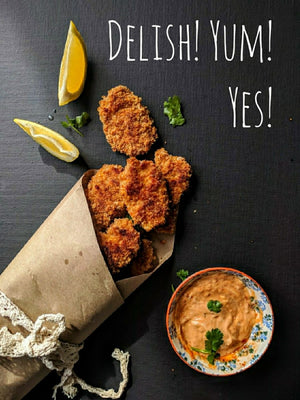 Why brine, you ask? Well, it certainly tenderizes the meat, yes, really. The meat itself is packed with flavors, potent AF! What I love about brining is that you can experiment with infusions and the meat absorbs it beautifully, along with the water, making it juicier, especially the boneless cuts.
Crispy chicken is literally every carnivore's favorite snack and what better than a healthier version? It is definitely healthier, tastier and it's everything done right to a beautiful piece of lean meat. It's one of those 'I crave junk food without the junk in it' kinda recipes. Plus, once you brine your chicken; which obviously can be done the previous night, it literally takes less than an hour to cook and voila! You have the juiciest, tastiest crispy chicken. The best part? It's baked! Brownie points from all you mothers out there. ;)
Two things to remember; make sure you use organic chicken (especially when brining) and always (I cannot stress enough on this) use filtered water. I remember once using the water straight from the tap, only later having my chicken faintly smell of chlorine, no kidding!
Alright kids, let's get our aprons messy! :)
BRINE BAKED CHICKEN
[Serves 3]
Ingredients:
For the Brine:
Chicken Breasts - 2 (15 oz)
Filtered Water - 3 Cups (24 oz)
Bay Leaves - 2 to 3
Black Peppercorns - 5 to 6
Garlic Cloves - 3 (smashed)
Ginger - 3 inch piece (roughly chopped)
Fennel Seeds - 10 to 12
Salt - 1 Tablespoon
For the Chicken :
Breadcrumbs - 2 cups (16 oz)
Eggs - 2
Paprika - ½ teaspoon
Garlic Powder - ¼ teaspoon
Ground Pepper - ¼ teaspoon
Grated Parmesan - 1 tablespoon
Salt- to taste
Olive Oil - 2 tablespoons (optional)
For the Dip:
Plain Mayonnaise - 3 tablespoons 
Sweet Chili Sauce - 2 tablespoons
Method:
Pre-prep:
Break the eggs into a bowl. Whisk with a fork and keep aside.
To the bread crumbs, add paprika, garlic powder, ground pepper, grated parmesan, and salt. Mix and keep aside.
Mix the chili sauce with the mayonnaise. Keep aside for later.
Brine:
Heat water in a saucepan.
On coming to a boil, throw in the ginger, garlic, bay leaves, peppercorns, fennel seeds and salt.
Switch off the heat and let the brine water cool completely.
Place the chicken breasts in a clean glass bowl. Pour the brine water into the bowl and cover with a lid. Do not strain the brine water before pouring. Leave aside for a minimum of an hour. To keep longer, refrigerate it. Can be kept overnight, too.
Baking:
Drain the brine water. Cut the chicken into breadth-wise strips.
Coat each strip with breadcrumb mix, dip it into the egg mix and coat with breadcrumbs, again. (the double coating method).
Arrange on a non-stick baking tray. Drizzle the olive oil on the coated chicken pieces.
Pop the tray into the oven and bake at 390'F (200'C) for 15 minutes each side, a total of 30 minutes.
Serve with a wedge of lemon and chili mayonnaise.
Many lip smacks, guaranteed! :)