Jicama Breakfast Mousse - Your dose of morning goodness!!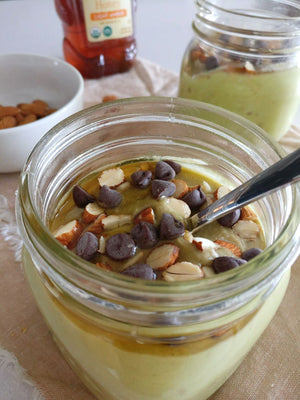 There are days I wake up, not wanting to take all that effort into fixing myself a breakfast plate with eggs, toast and the works. Somedays I think about it as 'effort' or even more, a 'chore'. Well, these gloomy mornings don't exactly help the situation and if you think a hot cup of coffee can break this loop, you are sorely mistaken. Some days, I just need a quick fix. Even better if I could get to start my day with dessert, without any of the 'caloric guilt'. ;)
I have for you, this quick and easy breakfast mousse recipe packed with all that is so good for you! Especially Jicama. The name might sound new (to some) but it has been a part of the Mexican diet for centuries. Packed with dietary fiber, vitamin C, potassium, this vegetable is actually a delight to snack on or simply juice.
The word is 'yum'.
There are a ton of ways you can cook this. Eat it raw, boil it, saute it, bake it. The most tried recipe, of course, is the jicama fries, and why not? I love fries, I love jicama. However, I am sure you've heard of the famous grandma phrase ' eat it raw rather than cooked'. This mousse intends to help you do exactly that. You will be surprised at how good it tastes. Yup!
Recipe:
(Serves 2)
Ingredients:
Jicama - 1  small (peeled and roughly cut into big pieces)
Avocado - 1 ( halved and deseeded)
Bananas - 2
Flax Seeds - 1 heaped tablespoon
Cinnamon - ¼ Teaspoon
Honey - 1 tablespoon
Optional:
Chopped Almonds- 6 to 8
Chocolate Chips - 10 t0 15
Method:
[Pre-prep:
In a saucepan, heat half a cup of water along with the flax seeds. Boil and reduce the water by half. Immediately, strain into a bowl and keep aside to cool. On cooling, the mixture thickens into a gel-like consistency. Retain the flax seeds for later.]
Grind the jicama in a food processor.
Next, scoop the flesh of the avocado and throw it in, along with the bananas. To this, add cinnamon, flax gel, and the flax seeds.
Blend into a smooth paste.
Spoon it into mason jars or simply, ceramic bowls. Refrigerate for an hour.
Any of you impatient folks out there can dig right in. ;)
Also, feel free to top this gorgeous velvety goodness of a mousse with pretty much any topping you fancy. However, I'd suggest you leave the bacon for a BLT or such. :P
PS: My favorite toppings are almonds, chocolate chips and a ton of honey!
Mousse away!!!! :D