Best gift for Chefs | Chef Satchel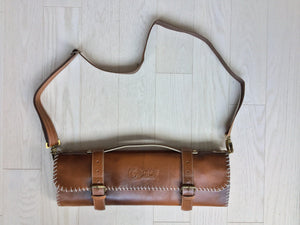 The best gift idea for Chef
Are you looking for a gift idea for a professional chef or a unique gift for an amateur chef? Then you have come to the right place.
Chefs are a very hard working group of people (well, most of us are)
No, we do not think of work 24/7 or wanting to come up with the additions to the menu or which garnish to pair with that particular quail dish. Ok, I lied, we do happen to think of our kitchen most of the time.
With our minds working constantly, we love a little pampering ourselves. Most of us are materialistic and do like treating ourselves to gifts sometimes.
What makes a perfect gift for a chef to fulfill our needs?
Perfumes…nah!
Cook Books… Close
Chef's Satchel Leather Knife roll- Now we're talking.
Why our knife case? Knives are very precious to a chef. Those knives need to be stored in a safe yet stylish place. What can be better than our vintage Leather knife case? Our leather is 100% real and made with buffalo hide which is going to last for a long time.
Our knife roll is great for occasions like birthdays, graduation, Christmas or simply just no occasion. I'd say this is a perfect gift for yourself or for someone to let them know how special they are to you by this simple yet special gesture.
We make an excellent choice for Chef Graduation Gift, Christmas gift for chefs, birthday gift for a chef.