Labor of love - Interviewing 3 FLIGHTS UP, TX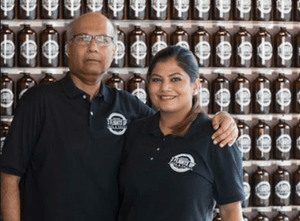 3 Flights Up is an upcoming quaint gastropub in Little Elm, Texas, founded by Tazdin Charania and his daughter, Sana Charania-Moloo. He is a cancer survivor, a rising phoenix, from starting 3 flights up three months ago to becoming a loved taproom, their journey is commendable.
We interviewed Sana, who currently runs operations at the pub and is the face of 3 flights up that will greet you with a warm welcome. Being a family-owned business, they extend the same relationship with their customers growing with the craft beer community. Read about their success story in this brief interview.
'Life will give you all sorts of problems and all sorts of circumstances and when you fall, just get up and move on' - Sana Charania-Moloo
Chef Satchel:  What is the story behind 3 flight's up? How did you start off with it?
Sana Moloo : 3 flights up is not my project, it is my father's project. He has been studying the craft beer industry for about 5 to 6 years or so. He comes from India, from this place called 'Daman' which is very heavy on the liquor business. So when we moved to the United States, beer is what he originally wanted to do, but things didn't work out. He belongs to many Texas Craft Beer association groups. He also has many friends in the field who have helped him evolve and grow so he decided to eventually open up something that would be a growler station.  When people drink, they tend to get hungry. So he wanted to make food to pair up with the craft beer. His original idea was bite-size food, like tapas. Something that's casual and urban. Tacos came to his mind and he is a firm believer in a tortilla is a canvas. You can paint it however you want, break the boundaries with flavors and ingredients. Instead of having Mexican tacos, we have globally inspired tacos on the menu. 3 flights up is his project, it is his dream of two of his favorite things; food and beer coming together.
CS:  What brings your customers back to the restaurant? What is different about what you have to offer?
SM:  I don't have a brand to sell. Right now, what I am working on is making 3 flights up a brand. What makes us a little more special is that it's a family-owned restaurant. As of now, I am running the business and I make sure to greet every customer that walks into the restaurant. My father chooses the beers. We make sure that we are not very heavy on IPAs or just on ciders, we make sure that we have quite a good balance of everything. So our beer selection, our food, and our excellent service are what we are selling right now.
CS: How did you begin your journey in the food industry?
SM: This journey has a personal history. I come from a family that has food as its number one topic of discussion. My grandparents have been great cooks but my father especially is a very good cook. When he started building 3 flights up, the concept, he had made sure that it had a solid foundation. He has been a part of beer association groups. People know my dad as 'Taz'. When people walk into 3 flights up, they know they are going to taste Taz's food so they come in with that expectation. He has always been in the food industry, he has always been blogged by many bloggers, he has worked on his presentation, he has served the community with his cooking. He always knew that when he finally decided to start 3 flights up, he would have the support and backing of the community.
CS: Tell us a little bit about the brewery and what are your favorite brews currently
SM:  We don't brew our beers, we are just a growler fill station, that gets supplied from local breweries, in state or from other states. We have 24 rotating taps. We've now made it 23 because we've made one tap a permanent cold nitro coffee tap. We try to focus and make sure that we are targeting our North Texas breweries to support local business because we are a local business as well. Honestly, I am not the one to choose the beers, my father is the one to make all the beer choices. He keeps a good balance between his IPA's, his ciders, his stouts etc. We also have a tap on wine with 4 types of white wine and 4 types of red wine. We have the advantage of adding different flavors like special hops or peppermint or any specific flavor, that makes our brews distinct. You can't have the same kind of bartenders that you have in bars, right? Because these are craft beers, the staff has to have the knowledge of the product. We make an effort to educate our customers really well about beer pairings. My father has a good connection with many of these local breweries and head owners because of which many breweries like to host with us.

(Tazdin Charania giving a personalized touch to the food)
CS: What is the specific role you play in the operations of the restaurant?
SM:  I am the mother of 3 flights up. It is my child, a very special child. I take care of everything starting from 'hiring and firing' which if you are in the service industry, is an everyday thing. I manage the operations, I manage the logistics, team leading. We started off with a team of 3, and within 3 months from opening, have reached to a staff of 9. I've played every role in the restaurant that is required to run a successful operation.
CS: What inspired you/ your father for the menu?
SM: My father has traveled quite a bit. He has been very inspired by different cuisines and the openness of contemporary kitchens and ideas from all around the world, especially Mumbai, especially India. He always wanted to open up a gastropub and keep the menu very simple. When craft beer came to him as an idea he wanted to make sure that he introduced food on the menu which had the kind of plating and ease that would help compliment the beer. We have tacos inspired by India, England, Portugal, Asia, Carribean, America and when we introduce the taco of the week, we make sure that we come up with something new.
(Shrimp Po'boy Taco)
CS: What according to you is the mantra of running a successful culinary establishment?
SM:  I am still learning. The service industry is not predictable. Having good staff that is ready for any challenge that might come up our way and taking it one step at a time, is important. Invest time in hiring because eventually, your staff will run your show. From our end, we just have to make sure that we give our 100 %; to the food we serve, to ensure good quality beer and our service standards and hope for the best.
CS: What is your favorite cuisine?
SM:  Has to be Indian. India is a country with many dialects, different cultures, every state has its own language, own cuisine, and its own identity. There is a lot of love, there is a lot of soul. I bend towards India because I come from there.
(Chicken Tikka Taco)
CS: If you weren't working for the food industry, what career would you have chosen?
SM: I have tried many careers. However, to answer your question, if I wasn't in the food industry, I would have loved to be a public speaker. I love talking to people, public relations and it reflects in the work I do at 3 flights up, too.
[Images by Caroline Joy, Padmini B -Yelp]