Mango Pudding with Mint Mango Jam and Pina Colada Crema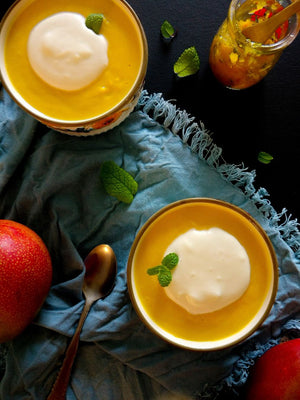 Mango screams 'tropical' like no other fruit. Pineapple puts up a strong fight to win that title. However, many will agree that Mango wins hands down! I have been itching to make dessert for a while now. Something fruity, rich and indulgent. Being a mango lover, I've tried almost every mango-ey dessert there is. My favorite is what I grew up eating - pureed mangoes with a dash of whole milk and sugar, eaten with a fried whole wheat flatbread called 'Puris'. Yummy!
What makes mangoes special is its distinctive scent, the fragrance. A good mango will be less fibrous, the flesh being golden orange, saffron in color. There are more than 250 varieties of Mango. Having tasted a few, my favorite remains the 'Alphonso' also termed the 'King of Mangoes'. It has now been made available in Indian Stores across the United States. This variety is literally the most heavenly tasting and, makes the best mango based desserts. However, if you don't find Alphonsos, go for any other fragrant kind. Only make sure it isn't fibrous and stringy.
This mint mango jam is a serious delicacy. If you are into jams and marmalades, make a batch of this one and use it on slightly toasted sourdough and ciabatta slices. This jam recipe is super simple. Skip the leaves and add mint essence instead, to increase its shelf life.
To honor pineapple at the second position, I'll be whipping up some Pina Colada Crema as a topping for the pudding. :P
I can't wait to put this delicious dessert together!!
Ingredients:
For the Jam:
Mango - 1 (Ripe and juicy)
Mint Leaves - 5 to six (chiffonade)
Sugar - 3 teaspoons
For the Pudding:
Whole Milk - 1 cup
Fresh Mango Puree - ¾  Cup
Heavy cream - ¼ cup
Gelatin Powder - 1 ¼ teaspoon ( I use agar)
Sugar - 3 teaspoons
For the Pina Colada Crema:
Coconut Cream - 4 tablespoons
Heavy Cream - 1 tablespoon
Concentrated Pineapple Juice - 2 teaspoons
Pineapple essence - 3 to 4 drops
White Rum - 15 ml ( do not go crazy with the rum :P)
Sugar - 2 teaspoons
Method:
Jam:
In a saucepan, heat the mango pulp and sugar on low - medium for 20 to 25 minutes.
On heating, the sugar will break down and caramelize, turning the pulp into jam.
On switching off the heat, let the jam rest for 5 minutes. 
Throw in the mint leaves and mix. 
Keep aside for later.
Pudding:
Pre-prep: In 1/4 cup milk, dilute the gelatin/agar until fully dissolved.
Boil the milk in a saucepan.
Once boiled, add the sugar and mix. Make sure to melt the sugar completely, into the milk.
Add the gelatin mix into the milk along with the mango puree and heavy cream.
Mix well. There should be no lumps.
Take two molds. In each mold, spread a spoon full of the mint mango jam at the bottom.
Pour the mango milk mixture into both molds equally. Leave in the refrigerator for an hour to set.
Pina Colada Crema:
In a mixing bowl, pour the heavy cream.
Add the coconut cream, rum, pineapple juice, essence, and sugar.
Whisk till all the ingredients are thoroughly mixed.
Plating:
Remove the molds from the fridge.
Spoon a dollop of the rich Pina Colada Crema on the Mango Pudding.
Garnish with mint leaves.
Best when eaten cold! :)
All images are subject to copyright - Shradha Nambiar/ Chef's Satchel