Not your average Sloppy Joe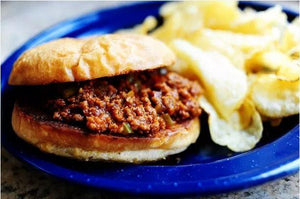 Turkey meat can be pretty lean and tends to dry up quick. With that being said, this is my favorite way to use ground turkey meat. 
Not your average Sloppy Joe
Ingredients
1 teaspoon Canola oil 
1 teaspoon Butter (unsalted)
3.5 lbs ground turkey
1 onion, chopped
1 small green pepper, chopped 
4 garlic cloves, chopped 
1 teaspoon red chili flakes (crushed) 
1 tablespoon coriander powder 
2 cups tomato paste
1 cup tomato ketchup 
1 cup of water 
1/3 cup brown sugar 
2 tablespoon brown mustard 
salt to taste 
1/4th teaspoon crushed black pepper 
Directions 
1) In a large skillet heat oil along with the butter on medium-high heat. Add onions and cook until translucent. Add the minced garlic and turkey. Cook turkey until no longer pink. Make sure to break up the crumbles. Add the rest of the ingredients except for the green peppers. 
2) Turn the heat to simmer. Cook for 2 hours stirring once every 15 minutes. Add the peppers 20 minutes before turning off the heat. Adjust for seasoning. Serve on buns. 
3) Serve on buns.