Top 10 Summer Seafood Recipes You Must Try! (2019)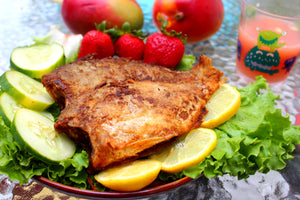 Hearty recipes are a crowd favorite during the colder months. But nothing says summer like lighter meals. If you're not able to make it to the beach, these summer seafood recipes will make you feel like you're there anyway. 
Making tasty seafood at home doesn't have to be intimidating. That's why we've compiled these 10 easy seafood recipes – with pictures – to help you bring a taste of summer to your kitchen. Featuring everything from classic shrimp to fusion seafood nachos, we've got your back.
Below are some of the best summer seafood recipes.
1. Seafood Nachos
Seafood nachos are a modern twist on a classic Mexican dish. Not only does it bring a sprinkle of summer into your kitchen, but it's also quick and easy to make. That makes it perfect for anyone. 
Whether you're a busy parent or a stressed professional, everyone appreciates a fast dish.
You'll need fresh, uncooked seafood, tortilla chips, cheese, corn, mango, tomatoes, onions, cilantro, olive oil, butter, and salt. You'll also need an avocado cream that you can make using sour cream, lime juice, salt, pepper, and cilantro.
Despite this long list of ingredients, the recipe itself only takes 15 minutes. The seafood cooks for about 8 minutes while the nachos bake in the oven. Check out this detailed walk-through for more info on portions and steps.
2. Mussels in White Wine Sauce
Mussels can be the perfect shellfish to ease you into the summer mood. A fun little bonus is that they're easy to cook. Mussels are hard to mess up because all they need is a little steam to open up. 
Once that's done, they're perfectly cooked. Adding extra ingredients just gives you an excuse to dip bread into the dish.
You'll need mussels, a cup of dry white wine, parsley, garlic, shallots, and butter. Simple, right? Not only is the ingredients list simple, but the recipe is also fast too. In just 15 minutes, your meal should be finished. Check this easy seafood recipe out.
3. Sheet Pan Shrimp Boil
This recipe is the easiest shrimp boil you've ever seen. A bonus is that there's no mess – all you'll use is one sheet pan. Bags, newspapers, towels? Not a single one will be harmed in the making of this dish. 
You'll need shrimp, sausage, corn on the cob, and potatoes. That's it!
Check out this 30-minute dish here.
4. Easy Fish Tacos
This recipe goes with any flaky white fish that you can get your hands on. This could be anything from tilapia to halibut. Just like the title says, making this fish taco is easy-peasy. 
All you'll need to do is shallow fry the fish. Then add it to some tortillas, pile on the coleslaw, and you're good to go.
This recipe has a 98 percent approval rate! That's right – 98 percent of the people who tried this would do it again. If those aren't great odds that you'll like it, I don't know what is. 
Get the recipe here.
5. Linguine with Clams
Despite the fancy foreign name, this dish is simply pasta with clams. Clam dishes often come with an aura of sophistication and elegance that can make you think they're complicated. This dish is anything but complicated. In fact, it may just be one of the simplest and cheapest meals you'll ever make. 
Clams, at their most expensive, are $7 a pound. But you can easily get them at cheaper than that. Even if you're feeding a family of four, you're only going to need 2 pounds. Throw in some simple pantry ingredients like parsley, pepper flakes, and vegetable broth, and you're basically already there. 
Check the details out here.
6. Sheet Pan Shrimp Fajitas
Got 15 minutes? 
Because that's all, you'll need for this easy seafood recipe. 
The recipe claims to produce restaurant quality fajitas. So not only will this be quick, it'll be picture perfect.
It uses the usual fajita recipe ingredients – peppers, onions, spices, tortillas, and an oven. Of course, you should remember to add the shrimp too. Using the red and yellow bell pepper combination gives the dish a nice aesthetic pop of color to make it extra delicious. 
For a spice profile, we recommend coriander, cumin, onion powder, chili powder, and garlic powder.
Just like with the sheet pan shrimp boil, these sheet pan shrimp fajitas create a minimal mess. So clean up shouldn't take you more than 15 minutes either. Check out the recipe here.
7. Cod with Tomato Herb Butter
This tasty seafood dish is exactly what it sounds like. If you're a fan of baked seafood, then this is right up your alley. I'm personally a big fan of the flaky texture that baked fish brings to the table, so this is one of my favorites.
This dish is the most tender, flaky, and flavorful cod you'll ever make. The butter portion of the food is thick, velvety, and slightly spicy. Overall, you'll fall in love with the textures this dish has to offer. 
You'll need cod, tomatoes, chicken stock, garlic, red pepper, lemon, and your selection of herbs. The dish only takes 25 minutes to cook. Check out the simple steps you'll need to follow here.
8. Baked Shrimp Scampi Linguine
If you thought you'd seen the last of linguine or baked seafood on this list, you thought wrong. Linguine is always such a crowd pleaser that I had to include it twice. 
Baking is an easy, fool-proof way to prepare shrimp. This recipe has six simple steps that we can all follow. It takes less than 30 minutes to complete from start-to-finish.
You'll need 8 ounces of linguine, 1 pound of shrimp, lemon juice, butter, garlic, and spices of your choice. Check the recipe out here. If you're worried about getting the pasta right, follow this tutorial on what you should and shouldn't do.
9. Garlic Lemon Butter Lobster Tails
Finally, lobster has made an appearance on this list. The only thing better than lobster is lobster drizzled in butter. It takes only three steps to prep lobster tails.
This is followed by baking the lobster in a quick marinade. They're then broiled for around 10 minutes, and because you've cracked them beforehand, it's easy to tell when the meat is done.
This recipe has easy-to-follow instructions – along with pictures – on how to prep the lobster tails. So even if you've never made lobster at home, you'll be able to follow along. Check it out here.
10. Jerk Shrimp with Pineapple Rice
This recipe is the perfect way to incorporate that holiday feels in your kitchen. If you couldn't squeeze in a trip to Hawaii or Jamaica in your summer plans, that'll be a nice little touch of the beach feel. 
The recipe has a good combination of sweet and savory. Not only is it delicious, but it also takes less than 30 minutes to make. As a big fan of jerky, this is another one of my favorite seafood dishes.
Dive into the recipe here.
Summer Seafood Recipes
Straight from the shore to the table, these simple summer seafood recipes are guaranteed to keep you excited at mealtimes throughout the summer months.
Interested in more food ideas? Check out our blog.