8 Best Kitchen Knives for Chefs to Invest in 2019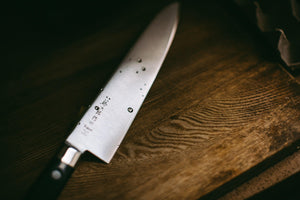 If you're reading this article because you're looking for a kind of blade that will never dull. There is no such thing. No matter what and how they market it to you. 
Sorry to disappoint you, but knives do get dull if not maintained. Period. 
Knives are one of the most important tools used in a kitchen to carry out the important tasks of cutting and chopping of meats and vegetables. Every Chef/culinary student may need to find the right knife that fits their needs. This may vary from having a comfortable grip to the length of the knife. Researching before buying the right knife for yourself is very important as this is something you do not invest in on an everyday basis. 
Listed are some of the factors which will help answer some of the questions on how best to choose a knife that's right for you. 
Balance
The balance of the knife can be best described as when holding the knife buy the handle, the blade nor the handle is slowing you down when used for chopping. The knife that feels heavy or unstable will require more of an effort when used. Certain knives will have the bolster which plays an important part in the balance, grip, and control on the knife too.
Choice of steel for the knife blade 
The material from which a knife blade is made affects its maintenance and longevity of the sharpness. Stainless steel is usually a cheaper option but this also means that a knife forged with stainless steel may wear out on an often basis. Which means, it may require sharpening for maintenance. Blades made with Damascus steel is another option knife makers have adapted to which consists of forging 2 or more types of steel together in layers. 
Santoku
In recent years Santoku knives have become a choice for most of the chefs due to their size and curved tip making it easier to slice and chop. Their sizes vary between 5 to 8 inches. Santoku knives may not be the best choice if used for halving chicken or fish since the blade is not designed to be curved on the bottom rather a single straight blade. This makes rocking of the blade hard. 
Ceramic blades
As ceramic blades may be well known for low maintenance, managing to hold their sharpness outdoing the stainless steel as well as carbon steel, they are notorious for chipping. The chipping may occur due to its thin blade.  
Choosing a blade is one thing. Below is a video to show how to sharpen a knife with steel or wet stone. 
Well, now that you're familiar with the tips on choosing the right knife for yourself as well as how to maintain the knife, here are our 8 best kitchen knives to invest your money in.
1) Miyabi 5000mcd
The Miyabi 5000 MCD Gyutoh is an all-purpose in its category. With the company boasting a 9" blade design to take on any task. The unique D-shape birch wood handle takes the stress off the hands making it less tiresome serving as a great tool for all kinds of cutting and chopping. 
Easier to handle than the Miyabi 5000 MCD, The 8" blade is one of the most common sizes for use at home as well as professionally. The durability of the blade for this knife is excellent with an added bonus of having dimpled edges, helps glide through sticky food such as potatoes, squash, etc. 
This is the best knife for a chef, cook or a culinary student wanting to add a Japanese knife to their collection. With VG-10 steel, it provides exceptional sharpness along with an added bonus of ease of maintenance, this knife is great to experiment with until you can level up for owning another Japanese knife.
This knife has a unique upward curve of an edge allowing for a solid rocking/chopping motion for speed and accuracy of fine mincing small foods such as garlic, herbs or any such work requiring precision. This knife is great for not only small but larger pieces of vegetables. 
Global knives have maintained a great reputation in the industry where there are a lot of options available for knives. They have managed to keep their collection user-friendly and low maintenance. This particular knife provides a great balance between lightweight along with being durable. If you're a chef/cook who holds the knife with a pinch grip, this knife is the answer to your prayers. With a wide blade, this also serves as a great transferring platform of what you've chopped to a frying pan. 
Wusthof is a knife all cooks and chefs should have in their Chef's Satchel leather knife roll. The blade of this knife is forged with high-quality carbon stainless steel which helps maintain the sharpness on this knife last 30% longer than its competitors. With its sharp features (no pun intended) and a handle made to look like walnut, but made with a wood composite, this knife is a must-have. 
This knife reflects the craftsmanship of the blacksmith family of Masakage. With over 50 years in knife forging business, they have managed to make knives with a purpose without compromising on the beauty of their work. The conspicuous work makes this one of our favorite knives. 
This one has been our favorite. Takeda Hamono has been in the business of handcrafting knives for nearly a century. This particular blade is made with softer steel which has proven to be an advantage of having a wider and longer blade without the additional weight as well as proving for low maintenance. If you're someone who is looking to purchase excellence with an added bonus of a longer blade, this one is our pick to be one of the best knives available for purchase. 
These are some of our favorite knives. Remember, NEVER put your knives in the dishwasher. Maintain them well for increasing the longevity of the knife. 
Let us know in the comments on some of your favorite knives.