Eggciting new breakfast - 'Çılbır' / Turkish Poached eggs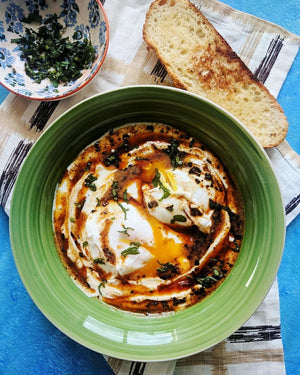 We've all heard of the ridiculously common egg dishes popular around the world. Yet, there are new ones being put together, while you are reading this. My love affair with eggs is an old tale. However, every relationship needs oil for the rust. I looked around all over social media for inspiration. Sadly, what started as an enthusiastic task turned into a circuitous pursuit. I found a dozen recipes of eggs with a twist on ingredients here and there but nothing that'd stir up tingles in my sensory antennae. Time went by and I forgot about it. To fulfill that pipe-dream, I'd cook eggs with fancy ingredients but nothing that satiated my soul, yet! Also, I've never completely been pleased with my method of poaching eggs. A few different techniques I've tried, I'll tell you that.
Two weeks ago, I decided to scour the internet for an appealing enough Turkish recipe (I have a penchant for Turkish food). Guess what?? I finally found 'Çılbır.' The idea of poached eggs on a yogurt sauce caught my attention, undivided. Frankly, I did not repel the idea especially since I was thrilled for finally having found an egg recipe that I'd be intrigued by.
This recipe can be prepared with everyday ingredients, found easily in your kitchen. I'd say, go crazy with the herbs and flavors but there a few rules you'd want to take heed to if you want to get this right! (These are my tips. Don't hold this as a poor reading of the egg bible. :P )
1) The eggs need to be FRESH! Notice how you drop the egg in simmering water only to be utterly disappointed with the splatter of egg white all over the place? Yup, that can be avoided by using the freshest eggs you can lay your hands on, since fresh eggs have tight albumen, meaning; the eggs will firm up while keeping its shape! :P
2) Eggs should be cold (just out of the fridge). Another cool trick to ensure that the egg stays taut while poaching.
3) Shocking the egg with vinegar or lemon juice helps the egg retain that beautiful shape. Also, the dangly white egg threads that you dread, do not come swimming apart!
Right about time to see what all this fuss is about!
Çılbır 
(Serves 2)
Ingredients:
Eggs - 2 (large)
Greek Yogurt - 10 tablespoon (whole fat can be substituted with the low-fat variant)
Garlic Clove - 1 large (grate fresh when about to use)
Butter - 3 tablespoon (you live only once, be generous with that butter)
Extra Virgin Olive Oil - 1 tablespoon (use cold pressed)
Lime Juice - 1 tsp (½ for each egg)
Paprika Powder - A pinch
Mild Chilli Flakes- ¼ Teaspoon (just in case you want that extra punch)
Fresh Coriander - for garnish (chopped) (use the stems too)
Baguette slices - 2
Method:
Prepare a double-boiler.
Put the yogurt into a heatproof glass bowl.
Gently stir the yogurt to smoothen and thin it out a bit. Do not overdo it else you'll soon be dealing with runny yogurt. A minute at the least should do it.
Remove it from the heat.
Throw in the grated garlic and salt. Mix and keep aside.
Heat water in a thick bottom utensil else the eggs may stick onto a thin bottom, leaving you struggling to chafe it, breaking that delicate yolk. Fill water enough to submerge the eggs entirely.
Bring to a boil and simmer.
Meanwhile, heat a saucepan on low. Throw in the butter, chili flakes, paprika and let it melt slowly till it turns into molten gold.
Take three dry bowls. Place a strainer in the first bowl. Crack an egg onto the strainer. You'll see the thin liquid egg white excess ooze out. Transfer the egg to a fresh bowl. Throw away the excess egg white. Repeat the same process with the second egg.
Add lime juice to the eggs.
Gently, slide each egg into the simmering water. Poach for 3 minutes.
While the eggs poach, throw in the baguette slices in a toaster or simply toast it in a pan with some butter.
You see why this trick works so well, don't you? ;) Perfect poached eggs, every time! 
Plating:
In a serving bowl, add two dollops of the garlic yogurt. Spread it a bit.
Place the poached egg gently on the yogurt.
Pour the butter sauce over the egg and yogurt.
Garnish with chopped coriander.
Take that toasted baguette slice and make your move! Turkish eggs deserve your undivided attention. :D :D
Note:
Aleppo or Halaby pepper is a spice powder used in middle-eastern and Mediterranean dishes. It is also what's added to the original Çılbır recipe. I did not have any in my kitchen so I stuck to a combination of Paprika and Chili Flakes. Remember I said, 'use what's available in your kitchen.' This recipe is comfort food and should not be a struggle putting together, yes? :)
Use parsley instead of coriander, if you please.
Use ciabatta or sourdough bread instead of baguettes, if you'd like. 
Make it once and you'll immediately stir up ideas for ways to prepare it! It's my absolute favorite breakfast nowadays. I am sure you'll join the club, very soon! ;D