Backpacks and Pop-ups with Chef Gaya Desai- An interview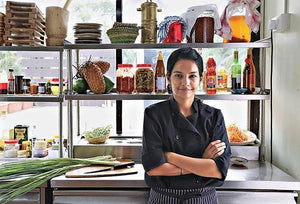 Chef Gayatri Desai is a pop-up chef who credits most of her culinary experiences and education to traveling. Her journey began from Vancouver where she attended culinary school to becoming a successful pop-up chef, innovating and exploring while at it. 
We spoke to this dynamic young chef about how traveling influenced her to become a serious cook and how pop-ups are the next big thing, Read on!
(A Mexican inspired pop-up at an organic farm)
Who or what inspired you to start cooking?
I was living in Mumbai City alone, had a very challenging advertising job. I did not have enough money to eat out all the time which got me cooking a lot and I started taking my lunch box very seriously at work. Six months into my job I started taking immense interest in what I was cooking and this triggered the thought of taking up cooking as a career.  I quit my job soon after and decided to start traveling. The first thing that caught my attention was Indian Food, the food that I grew up with. It all began with me visiting the southern part of India, from there on I made my way up north, and learned first hand from the local cooks. I believed at that time and I still believe that the best person to learn from is someone who has age-old traditions, techniques, and recipes that have been passed down through years and years together! I also believe that getting to know your ingredients and where they come from is the primary step to eventually creating that final dish.
Describe your cooking style.
I feel like I don't have a specific style. My style keeps changing based on what my inspiration is at that particular moment. Sometimes, I am focused on specific techniques and sometimes unique flavors with the help of certain ingredients whether it is savory or sweet. If I had to be specific, I'd say it's about bringing distinctive flavors to the table, based on what's in season. I am a sucker for working with new ingredients.
Favorite kitchen toy?  
Mortar and Pestle.
Your thoughts on 'food bloggers'.
My thoughts on food bloggers generally are skeptical. I like to look at food blogs that also tell stories and lessons one can learn from travel. Certain bloggers are very shallow from what I read about them or from what they write about recipes and restaurants. The content is obvious, it is already out there and there is nothing inspiring or new for me as a reader, to discover. I like blogs with fresh content that inform me about what the current food trends are in the industry or something fun happening in the city, in the world, new ingredients. I'd say, I am not big on food blogs, however, I'd make an exception if I find something informative. Perhaps, a travel blogger that writes about food.
Tell us about your experience in Vancouver .
I spent two years in Vancouver, attending Culinary School at Northwest Culinary Academy of Vancouver.The city is amazing since it is a melting pot of all kinds of cultures with young chefs learning traditional as well as modern techniques. It is also the place where I discovered a fresh new take on vegetarian cooking. This left a lasting impression on me because when I left the country, I was only cooking vegetarian food for the next entire year. I did a stage with an eccentric woman who owns a restaurant there and she would change her menu every single day. There were times when she wouldn't want to function as a restaurant, instead, would have a pop-up where only 20- 25 people were invited. She would go all out with the food and source fresh, local ingredients which were reflected on the menu prepared for that day! This is where I got to learn about pop-ups and what actually goes into putting one together.
(Chef Gaya at one of her pop-ups. Indulgent conversations are mandatory after each session)
Talk about the different pop-up themes you do, i.e- cuisines. What makes your followers return back for more?
Definitely, I think, what made me different from other restaurants and chefs in my city at that time when I had just started pop-ups was that apart from the theme, it was also the location; a quaint rooftop, an open concept kitchen, and an edible garden. The food is genuine, honest; it is about what is available locally that you may not be not aware of. You don't need to look for that new ingredient because I introduce you to those ingredients as well as make it accessible through my food. That is one of the things that people found interesting along with the combination of flavors and a few techniques that I picked up, purely from my travels. I focus on flavor-profiles rather than working on it as a particular cuisine. However, to answer your question, I'd say my food has Mexican, Asian as well as Southern influences.Also, I collaborate with local brewers, cheesemakers, musicians and my customers get the entire experience, which they love!
What are the struggles of a pop-up chef? What challenges do you face?
Primarily, bringing awareness among people of what I am doing since a pop-up business can be as serious as a restaurant and it's not necessary that my customers see that first handed. Also,  I cannot hire labor on a full-time basis and that can be a challenge! Finding motivated, self-driven staff is difficult.
(Sesame seed cookie, coconut ice cream, seasonal fruit and a coconut-basil sauce)
How would you describe a restaurant scene to be differentiated from a pop-up?
A pop-up is way more personal. As a customer, you get to know what you are actually eating, understanding where your ingredients come from and have a tete-a-tete with the chef! You get to have an equation with your food, and not just eat it simply because it tastes good. Also, the feeling of looking forward to a new menu every time.
You curated a culinary tour to Vietnam. We'd love for you to tell our readers about your exciting journey and experience.
I spent a month traveling from the southernmost tip to the north of Vietnam (Hanoi), realizing how exhilarating the experience trying the local cuisine in various corners of a city was.  There were certain days I would eat several different types of noodle soups, all different and unique in flavor.  To get to know the city and to understand the culture of that place through its food, was an experience I wanted to share with people.  I was approached by a travel company to organize a food tour to Vietnam. I passed on all those experiences to a group of 9 people with whom, I traveled back to Vietnam, taking them to the exact same places and making them meet the exact same people that blew my mind. I made them eat the weirdest things and made them experience everything I did as a solo traveler.  
( Caught in action, on the streets of Vietnam)
What is your role as an innovative chef at doolally taproom?
Doolally is India's first brew-pub. It is one of the first organizations that got the craft beer on the scene. The man behind the scene is Oliver Schauf and what he has done with beer is absolutely incredible! He made people understand that there is beer beyond Kingfisher (a local favorite), what an IPA  and stouts are, what hops tastes and smells like and that there is so much more to beer.  'Innovation Chef' was a term made up when they hired me (laughs). I figured what I wanted to do since they were far behind with the food trend or simply, food that could be paired with beer. I worked on incorporating ingredients that were in season. Trained chefs across 5 taprooms to look into and eventually come up with dishes that were not available in any other taproom environment. To do something that would give us an edge over the others.
The one culinary trend you wish would die a slow and painful death?
I detest the idea of 'Fusion-food'. I find it very annoying when a mom and pop restaurant adds a negligible twist to its conventional dishes and calls it 'Fusion'. Wtf is  'pink pasta' anyway? Also, what social media is doing to food. How chefs are getting obsessive to be liked on social media, I think that is extremely sad.
We conclude this interview by you giving one advice to our young chefs.
Travel! Travel for food. There is no stage or teacher that you will find as experiential as traveling.
-Shradha Nambiar for Chef's Satchel