Miracle Cookies! 100% Oatmeal.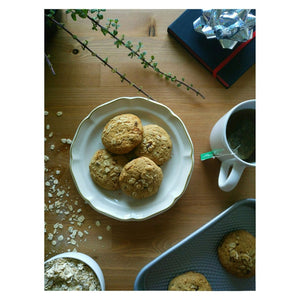 Ask me about chocolate-chip cookies and I can go on forever! Especially those made with great  ingredients. Such a myth it is, that cookies have to be fattening, lousy and everything but healthy! I believed it too, for the longest time, since all purpose flour was the primary choice for possibly every cookie recipe you'd find. Even though all purpose flour does take up important space in a well rehearsed kitchen, it isn't the best sort of carb you put into your body. Now, that being said, how would you like a cookie recipe that has NO all purpose/ refined flour? I am sure you can't wait to read ahead. :D
I know, this is well out of topic but I thought you'd like a quick upper on this one. Well, I sing all songs of praise for a special kind of cereal grain called 'Oats'. The three kinds ; steel-cut, instant and rolled, are all give-or-take similar in nutritional value. However, they do vary in cooking qualities.
- While the 'steel cut' is grain like and takes the longest to cook, it is the best kind for porridge, or for bread loaves and whole wheat dough.
- The instant kind takes lesser cook time and gets mushy. It is also the most processed of the lot. Best if cooked as gruel or breakfast cereal.
- The third kind, 'rolled', does not get too mushy and could take long to cook. It does not soak up as much moisture as the instant, which is exactly why it is perfect for baking!
To conclude this tiny lesson ; rolled oats is what you pick up for this recipe. :)
These cookies are perfect for when your sweet tooth is tickled. I'd much rather gorge on these, than the cream and sugar heavy desserts! A batch lasts for a week but I can't really guarantee it, considering how delicious they are. :p You can make them two ways; biscuity or gooey. My personal favorite is the biscuit-like texture, so crunchy! I have listed down the substituted ingredients and versions too, if you'd like. Either way, I am sure this is going to be a hit at your home and among kids too!
I hate having to clean up the mess my baking pursuits create. I am sure you are totally thinking about it too. Clearly why, I have a list of the least amount of equipment that you will require for this recipe.  A tablespoon, a teaspoon, a wooden mixing spoon, a measuring cup a big mixing bowl and a baking tray, is all. Let's get our ovens preheated ! :)
Ingredients: (makes 12 cookies)
Rolled Oats - 1 ½ cup
Flax Powder - 4 tablespoon
Jaggery Powder - 2 ½ tablespoon
Raw Cane Sugar- 2 tablespoon
Coconut Oil - 2 heaped tablespoon
Unsalted Butter - 1 ½ tablespoon
Eggs - 1 (at room temperature)
Vanilla Extract - ½ teaspoon
Baking Powder - ¼ teaspoon
Baking Soda- ¼ teaspoon
Chocolate Chips - 60 gms (a small handful) (semi-sweet)
Roasted Almonds - about 10 (chopped)
Roasted Walnuts - 6 to 8 (chopped)
Method:
Pre prep: Preheat the oven to 330'F (165'C). Grind the Oatmeal into a fine flour.
In a mixing bowl, cream the coconut oil, butter, jaggery powder and cane sugar. Mix till fluffy and smooth. Overmixing could cause the butter and oil to melt which we don't want. Don't want a cookie disaster, do we now? ;)
Add the egg and vanilla extract. Mix till combined.
Throw in the oatmeal flour, flax powder, baking powder and baking soda. Combine well.
Lastly, add the chopped nuts and chocolate chips. Mix it all together.
Portion out on a baking tray. Make sure the portions are well spaced and don't overcrowd the tray.
Bake for 25 to 30 mins at 330'F. The cookies will turn golden brown when done.
Place on a cooling rack.
Enjoy the crisp deliciousness!
Variations:
Gooey soft cookies - To make it gooey, remove baking powder from the recipe. Double the quantity of butter (3 tablespoon). Add 20 gms more of chocolate chip cookies. Bake at 330'F for 20 minutes. Goooeyy, yup!!
Vegan cookies - To make it vegan, replace the regular butter with vegan butter. Replace the egg with 1 teaspoon Chia seeds (soaked in 8 teaspoons warm water, for half an hour).
Healthier Cookies - Replace the butter with the exact amount of coconut oil. Replace the raw cane sugar with the exact amount of jaggery powder. Use 90% dark chocolate chips (cocoa nibs). 
Note:
I am a big goof and tend to lose my kitchen equipment when I need it the most and that said, I just couldn't find the cookie scooper. Go ahead and portion the cookie dough with your hands. Works just as fine! :) Ah, I am dreaming of my next batch already!!