Potato Fritters (The best of Indian comfort food)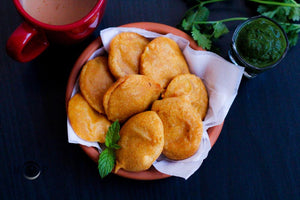 Have you heard of Indian potato fritters? Originally known as Aloo Bhajia (Aa-lu Bha-Jya). These can be a firehouse of a taste or simply suttle in taste. To break it down for simple understanding - Sliced circular pieces of potato dipped in a batter prepared with a mix of gram flour and a combination of spices then deep-fried till crisp and golden brown in color. It is super simple and easy to make.
These potato fritter snacks are best served during monsoon. 
The list is endless on what vegetable you can use to make the fritter. But, traditionally, Onion Pakoda, Palak (Spinach) Pakoda, Paneer (cottage cheese) Pakoda, etc are the ones closely knit with Indian roots. 
Ingredients for Potato Fritters 
300 Gms of Potatoes
1.5 cups of Gram Flour (besan)
1/2 cup cilantro leaves (chopped) 
1/4 tsp turmeric powder 
1/4 tsp coriander powder
1/4 tsp cumin powder
1/4 tsp red chili powder
1 cup of water
 salt to taste 
Oil for frying
Procedure
1) In a mixing bowl add the gram flour as well as all the dry ingredients and mix using a whisk. 
2) Ad half a cup of water at a time till you have achieved a pancake consistency.
3) Peel and slice potatoes to a 0.2 cm thickness. Cutting the potatoes horizontally to the mentioned size will ensure quick and even cooking. 
4) Add the potatoes to the batter and set aside. 
5) Fry till golden crispy brown. Rest on a paper towel to soak off the excess oil. 
6) Serve hot! 
5) Heat oil in a wok. 
6) Add the battered potato 1 slice at a time. Be very careful when dropping the potato slices in the oil.