Boozy Salsa (Perfect for Summers)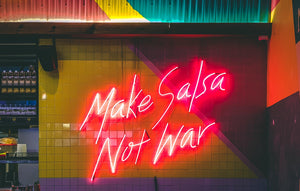 The summer is upon us! That makes things so much more exciting. 
Firing up the badass barbecue grill is all good but what about refreshing cold appetizers? Today we are letting salsa take the stage but with a twist. 
Have you heard of grapefruit? The national fruit of Texas. This citrus fruit is believed to be a cross between a pummelo and an orange. When used in food, it helps balance the sweetness and tartness of the dish. Now, have you ever thought of using the juice from the grapefruit in your salsa? That we did. But it did not stop there. We also added a magical ingredient that changed the entire ballgame and took the salsa flavor to a whole new level. The answer is Bourbon. 
The Burbon we have chosen to use with the salsa has a smooth, balanced note infused with caramel, honey apple, and spices which helps balance the taste of the grapefruit along with the ingredients we will be using in making the salsa. 
Ingredients
3 cups of chopped tomatoes 
1/2 cup chopped green peppers 
1/4th cup chopped cilantro 
1 cup chopped onions
1 tbsp freshly squeezed grapefruit juice 
4 tsp freshly chopped jalapenos 
1/2 tsp cumin powder
1/2 tsp black pepper (crushed) 
Salt to taste
4 tbsp Woodford Reserve Double Oaked Bourbon 
Procedure - 
1) In a large bowl add all the ingredients together and toss 
2) Serve with tortilla chips or anything you're able to scoop and eat with. 
*Since this recipe consists of alcohol, keep away from kids and eat/drink responsibly*