FRANKL(in)Y THE BEST BBQ!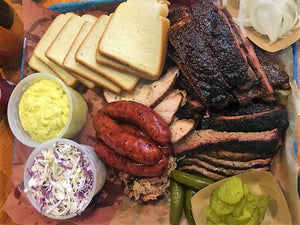 Dream big or go home! 
This thought resonates so very well with the man behind one of the best restaurants for BBQ in the United States. Aaron Franklin's parents owned a barbeque stand in Bryan, Texas. 
Texans love their barbeque. When Aaron Franklin started to experiment with briskets in his backyard barbeque, he knew he could take it a step further in mastering this. 
Call us crazy but we stood in line at 8 am to experience as well as understand what the hype was all about. As time passed, the line grew longer which eventually was wrapped around the block. Don't believe me? Look for yourself. 
And oh man, I am so glad I did. It was completely worth the wait. Franklin did live up to its considerable hype. The brisket melts in your mouth, the ribs come right off the bone, the sides are mouth-watering, and you can't stop eating, even if you're completely full. Absolutely amazing. I'm sure waiting outside for 4-5 hours will give that hunger an extra kick, but there's a long wait for a reason. It's a definite must if you have time and you're in town.
This was the calm before the storm!
Definitely took advantage of taking a picture with the man behind world-class barbecue. 
Hands down the best barbecue in America.