Garlicky Parm Spaghetti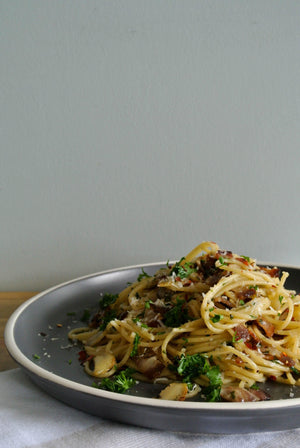 Cooking with family is the best thing ever. It gives you the time to bond with your children. 
They say that kids too, love to be given the credit for helping out in the kitchen which inculcates habits that go far along the way. When home with our kids, this is definitely a favorite of ours which gets the kids really excited. 
Garlicky Parm Spaghetti
Ingredients - 
6 cloves of garlic 
1/4th cup extra virgin olive oil
1.5 cups herbed panko bread crumbs 
1/3 tsp red chili flakes 
Salt 
1 lb dry spaghetti 
1.5 tbsp butter 
2 oil-packed anchovy filet, minced (Optional)
1/2 a lemon juiced and zest
1/2 cup grated parmesan 
1/3 cup chopped parsley 
1/4th cup peas 
Procedure 
1) Heat oil in a pan, heat 3 tbsp olive oil, add the herbed panko bread crumbs with the chili flakes add 3 minced garlic cloves, cook till the panko turns golden brown remove bread crumbs onto a paper towel and set aside. 
2) Thinly slice the remaining cloves of garlic. In a pot, bring water with added salt to a boil. Cook the spaghetti to al-dante. Reserve a cup of pasta water. 
3) Heat the skillet with butter as well as the remaining olive oil. add the sliced garlic as well as the anchovy (if your kids enjoy the taste), cook for about 2 minutes.
4) Add the pasta to the skillet and toss. Add the lemon juice and zest as well as the parmesan. Add the pasta water to thicken the sauce as needed. Stir in the parsley, peas, and 3/4th of the bread crumbs, mix well. Top with the remaining bread crumbs and serve hot. 
This is a recipe which is a lot of fun and with the assistance of an adult, the kids can do the cooking while you are the one to help with preparing the ingredients for the dish. 
Spending time with the family is the best way to go about finishing your day. And involving cooking in the process is like a cherry on the top! Ohh and of course parents will do the dishes. So go ahead, gear up with Chef's Satchel leather strap aprons and get cooking!