It ain't easy being cheesy!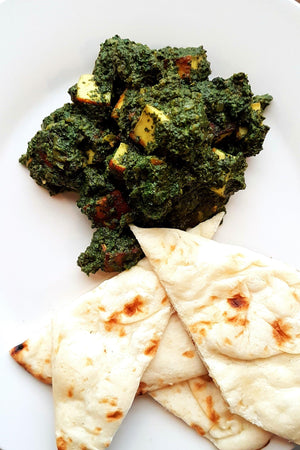 Palak paneer is one of the most popular vegetarian dishes in India which is composed of cottage cheese cooked in a thick puree of spiced spinach. As a matter of fact, any kind of Indian curry with a little paneer action is always a hit. 
Paneer is cottage cheese which is made by curdling a mixture of milk and cream using an acidic component such as lemon and/or vinegar. Once separated, the curdled mixture is strained through a cheesecloth. The cheese is then set by putting weight on it for a few hours or for best results, overnight!
Ingredients: 
Spinach - 400 gms 
Onion - 1/2 piece finely chopped 
Tomatoes - 1 pc (chopped) 
Ginger garlic paste - 1 Tbsp 
Water - 1/2 cup 
Garam masala - 1 Tsp 
Turmeric powder - 1/2 Tsp
Red chili powder - 1 Tsp 
Coriander powder - 1 Tsp
Cumin powder - 1 Tsp
Salt to taste
Heavy cream - 2 tbsp (or greek yogurt) 
Paneer - 240 gms (cubed)
Kasuri methi - 2 Tsp
Oil as needed
Process:
1) Heat oil in a pan, add the spinach and a pinch of salt. Once wilted, remove from pan and let it cool. Puree using a blender set aside. 
2) Heat the pan with a little oil and add the cubed paneer and give it some color. Remove and set aside.
3) Heat oil, add chopped onions. Sautee till translucent. Add the ginger garlic paste, all the dry powders and cook for a few minutes. Add the tomato and cook for 5 minutes on medium heat. 
4) Add the pureed spinach as well as the paneer to the onion mix as well as the cream. Simmer for 5 minutes. Adjust the salt as per your need. 
 5) Serve with a hot crisp tandoori naan