Super moist M&M cake!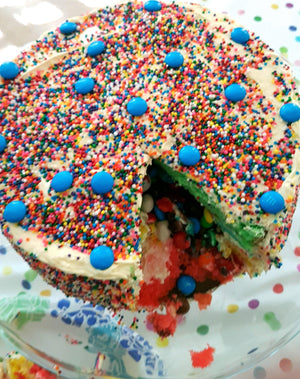 Alright, so I did bake the cake which I thought I'd never attempt to. 
Quick tip - Bake the cake a day prior and build it the day of. Building it the day before may cause the m&m inside the cake to get a little sticky. 
If you're putting so much of an effort into the cake, don't let anyone stop you from using a box cake mix. It will save you a lot of time. 
Ingredients - 
Butter - 1 cup (room temperature)
Sugar - 1.5 cups 
Vanilla extract - 2 teaspoons 
Cake flour - 3.5 cups 
Baking powder - 4 teaspoons
Salt - 1/2 teaspoon 
Egg whites - 6 large 
Whole milk - 1.5 cups (room temperature) 
For the frosting - 
Icing sugar - 5 cups
Butter - 1/2 cup (softened)
Vanilla - 2 teaspoons
Milk - 2 tablespoons 
Decoration - 
Sprinkles
M&Ms
Procedure
1) Preheat oven to 350°F. Grease 4 - 9-inch pans and line the bottom with parchment paper.
2) In a large bowl combine butter as well as sugar and cream together. Add the vanilla extract.
3) Combine eggs and milk in a cup or bowl and set it aside.
4) In a bowl sift cake flour, baking powder, and salt.
5) Add 1/3rd of the dry ingredients to the butter mixture and mix until combined. Add 1/2 of the milk mixture and combine. Add the rest of the flour along with the egg and mix well. Use a spatula and scrape all the sides and bottom of the bowl.
6) Divide the batter into 4 bowls. Add the desired gel color to each bowl.

7) Transfer each into the lined baking pan and bake at 350°F for 35 minutes or till the toothpick comes out clean.

8) Let the cakes cool completely before starting to ice and stack them.
9) For the pinata 'effect' keep 2 layers of cake aside.
10) Take 2 the layers you are wanting to stack in the middle - use a 4 inch round cutter and cut out of the center.
11) To assemble - Place the uncut layer on the cake stand; Spread 1/3rd cup of frosting on top. Top with 1 layer with the center removed; spread 1/3rd of the frosting. Top with the second layer of the center cut layer and spread another layer of frosting.
12) Fill the cake with m&m and sprinkles or a mix of both or whatever you want to fill it with. Gently press the candies to level with the other layers. Top with the uncut cake layer and frost the top and the sides.
13) Decorate the cake with sprinkles and M&Ms. Cut and enjoy.