Not bad, COD do better... The ultimate Alaskan Cod taco recipe.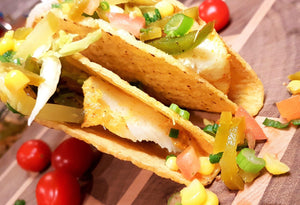 I can't resist when it comes to cod or shrimp tacos.  
Cod is a wonderful fish that takes on the flavors of what you use to marinate it with. Delicate, flakey and mild is what makes this fish amazing for fish tacos. 
Always remember - Ask for Alaskan when at a grocery store. Use sustainable seafood. 
Today we're going to make the healthy-ish tacos for all those who have set a goal to get fit for this 2019 (and then get back to eating regular 6 meals after 3 days of setting their goals =D )
 Ingredients - 
Cod - 2 Lbs
Lemon juice - 1/4th cup 
Chopped garlic - 2 tablespoons 
Coriander powder - 1 teaspoon 
Cumin powder - 1 teaspoon
Cayenne pepper - 1 teaspoon 
Salt - 1/2 teaspoon 
Pepper - 1/8th teaspoon 
Butter - 1 tablespoon 
Oil - 1 tablespoon
Onions - 1 (sliced)
Green peppers - 1 (sliced)
For the Pico de Gayo 
Tomatoes (deseeded and chopped) - 1 whole 
Sweet corn - 1 cup 
Dill pickle - 1 oz
Jalapenos - 1/2 (chopped) 
Salt - to taste 
Pepper - to taste 
Cilantro - 1 bunch (chopped) 
Green onions - 1 bunch (Greens only)
Iceberg lettuce - Thinly sliced.
Tortillas - 
Either soft or crispy (your choice) 
Procedure - 
1) Place cod on a plate and drizzle with lemon juice, garlic, coriander powder, cayenne pepper, cumin powder, salt, and pepper. Marinate for 30 to 45 minutes. 
2) While the cod is marinating, make the Pico de gayo. Mix all the ingredients in a bowl. Adjust the salt and pepper as per your need. Heat a pan, add oil. Toss in the peppers and onions and cook on high heat till the color changes to light brown.
3) Heat pan with the butter. Carefully place the cod in the pan. Cook for 4 minutes on one side or till it gets a light brown color. Once done, flip the fish and cook for an additional 2 minutes or till the fish starts to flake easily. 
4) Once the fish is done, transfer to a bowl and using a fork, flake the fish up into bite-size pieces. 
5) Warm up the taco shells as per the instructions on the pack. 
6) Divide the cod for each taco, top with the Pico de gayo and enjoy!