NUTELLA pound cake!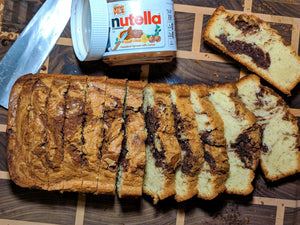 Ingredients - 
Flour - 1 1/2 (204g) cups 
Eggs - 4 large 
Vanilla - 2 tsp (10ml)
Baking powder - 3/4 tsp (2g) 
Salt - 1/4 tsp (1g) 
Butter softened - 1 cup (250g) 
White granulated sugar - 1 1/4 cups (250g) 
Nutella - 7 oz (about 200g)

Process - 
1)Combine eggs and vanilla and beat together, set aside.
2)Combine baking powder, salt and flour in a bowl set aside.

3)In a large bowl cream together the butter and sugar, add in the egg mixture and beat well. Add the flour mixture a little at a time until combined.

4)Take 3 tablespoons of the batter and mix with Nutella. This will prevent the cake from collapsing in the center.

5)Spread 1/3 of the batter in the bottom of a large loaf pan ( I used a 5"x9" / 14cm x 23cm loaf pan) that has been greased. Spoon half of the Nutella mix onto the batter, gently spreading it to the edges of the pan. Place another 1/3 of the batter over the top of the Nutella and spread evenly. Top with the second half of the Nutella mix and scoop on the remaining batter. Take a toothpick and gently swirl the batter and Nutella layers together.

6)Bake at 325F for 1 hour to 1 hour 10 minutes or until the cake is done in the center.
Allow to cool completely and then slice.