Paella Mania - Do it your way or mine!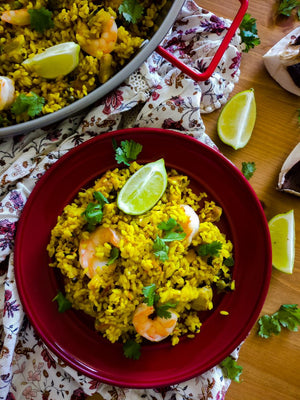 Paella is a beautiful Spanish rice dish that consists of veggies and protein, mostly in the meat form. I love Paella mainly for two reasons: the simplest of flavors creating complex taste and the fact that it is a wholesome one pot meal. Traditionally it is made in a special Paella pan but it if you don't have one, you can always make it in a cast iron pan. I once made this dish in a tagine (yes! :D) but this was way before I was gifted a paella pan. It turned out just as beautiful! I can sense some Spaniards frowning upon that idea but in all honesty, food should be a comfort. Food should be accessible and effortless.
This recipe is by no means an authentic one. Honestly, I've eaten some great traditional paella at restaurants but that is where I will leave it be. I once ran out of chicken stock for the recipe and instead made it preparing some robust mushroom stock with portobello mushrooms (you can use mushrooms like shiitake, crimini, and chanterelle). The result was fabulous! I never went back to chicken stock, especially for this dish. Trust me on this one, the flavors are on point. Paella is perfect for a festive family meal since this dish screams warmth and togetherness.
Paella is best made with seafood. Shrimp, squid, mussels, clams; use them all. Any lean/white meat will do. Trust the inventors of this dish and stick to the base flavors. Anything over and above, you are most welcome to add and experiment with. :)
Ingredients:
Paella Rice (Bomba) or any Short Grain Rice - 3/4th Cup
Spanish Onions - ½ finely chopped
Portobello Mushrooms - 1 head, finely chopped
Grated Tomatoes -1 small
Roasted Pimento Pepper - 2small, roughly chopped (substitute with regular green bell pepper)
Saffron - A pinch
Garlic - 1 teaspoon
Smoked Paprika - ½  teaspoon (substitute with mild crushed red chili)
Chicken Thighs - 50 gms or 1 small thigh, chopped into cubes
Shrimp - peeled and deveined - 8 to 10
Green Peas - a handful
Olive Oil - 4 to 5 tablespoons
White Pepper - ¼ teaspoon
Parsley - for garnish
Lemon Wedges - for garnish
Salt - To taste
Method:
Pre-prep: In a saucepan, heat 6 cups of water. Throw in the chopped portobello mushroom, salt, and olive oil. Let the water reduce to ¾ the quantity. Save this mushroom stock for later.
In the Paella pan, heat some olive oil.
Once hot, throw in the chicken and cook it halfway through.
Remove the chicken and keep aside. Do not scrape out the chicken bits.
In the same pan, heat some olive oil.
Throw in the onion, white pepper, and garlic. Saute for 3 to 4 minutes or till the onion becomes translucent.
Next, add the saffron and smoked paprika. Cook for a minute.
Add the tomato, roasted pimento peppers, rice, and peas. Give it a quick stir.
Adjust the salt and pour in the mushroom stock. Give everything a thorough mix, cover with a lid and cook for about 20-25 minutes.
The rice should form a semi-crispy crust on the bottom. That is a good sign of a well-cooked Paella. :)
Garnish with parsley and lemon wedges.
All images are subject to copyright - Shradha Nambiar/Chef Satchel