Toast is Happiness!!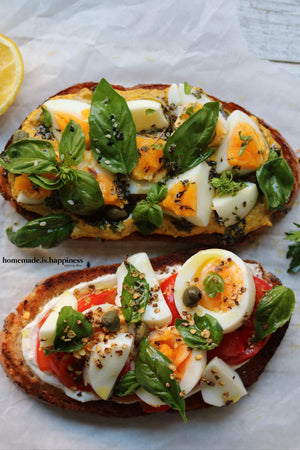 We continue our journey by promoting quick, easy and healthy recipes for those who work long hours.
After a long hard working day, all you want to do is throw your bag and jump onto the couch for a well-deserved break.
You then you hear a loud growl of hunger and there's nothing in the fridge besides a few eggs.
Guess what!? Zeynep is here to save our lives with 2 of her simple, yet heart-filling recipes which are hard to resist. Check out her posts and follow her @homemade.is.happiness
Let's get to it.
Ingredients
Sourdough - 1 loaf
Grainy Dijon - ½ tbsp.
Olive oil - 2 Tsp
Dried mint - 1 pinch
Lemon juice - 2 Tsp
Dried red chili seeds - 1 tsp
Fresh basil - 4 to 6 leaves
Tomato - 1
Capers - 7 to 10 pcs
Sesame seeds - ½ tsp
Labneh - 1 tbsp
3 hard-boiled eggs
Want to learn how to make sourdough- here's a link to the recipe provided by Brothers Green Eats.
What is Labneh you ask? I'm about to make your day. Wait.. unless you are not yogurt lover. Even if you are not, this should turn you into one. 
Thick, creamy, tangy, labneh (also known as labne) is yogurt cheese. The creamy thickness is obtained by simply straining yogurt until it loses the majority of its liquid. Can't resist that now, can you? Spread that on the toast or simply use it as a dip. As soon as that labneh hits your palette, the feeling of that is as though you've kissed an angel, mmmhh.. Aaannnddd, back to reality!
Procedure -
Heat water, pop in the eggs and cook for 14 minutes. Remove and cool, peel cut in quarters.
Cut 2 1" slices from the sourdough. Toast as desired.
On the 1st piece of toast, spread the grainy Dijon mustard, topped with 2 eggs.
Top with 5 to 6 pcs of capers, 2 to 3 pcs of basil, a pinch of dried mint, some lemon juice.
Finish with a dash of olive oil.
For the second toast -
Spread a generous amount of the lovely labneh on the toast.
Cut tomato slices and arrange 2 to 3 pcs on the toast.
Arrange 1 egg cut into quarters on top of the sliced tomatoes
Top with 2 to 3 leaves of basil. Sprinkle dried chili seeds.
Arrange 5 to 6 pcs of capers, some lemon juice.
Finish with a drizzle of olive oil.
There you have it ladies and gents. A perfect, light, quick meal for those who want to take it easy!!