Whole Roasted Red Snapper with Vegetables and Garlic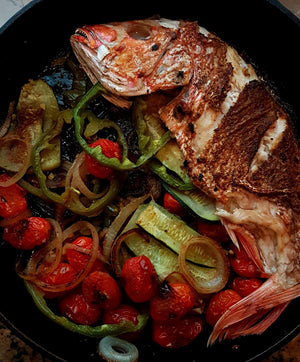 Roasted red snapper is sure to get your taste buds the relaxing Sunday feels 
Ingredients: 
Red Snapper - 1 whole (cleaned and gutted) 
Garlic Cloves - 5 pcs 
Coriander powder - 1 Tbsp
Cumin powder - 1 Tbsp 
Fennel powder - 1/2 Tbsp
Salt - To taste 
Black pepper - 1 Tsp
Green pepper - 1 pc rounds 
Onions - 1 large sliced rounds 
Zucchini - 1 pc sliced
Cherry tomatoes - 1 pack
Vegetable oil 
Lemon - 1/2 
Butter - 2 tbsp 
Procedure
Preheat the oven to 425 degrees F
Dry off the red snapper with a paper towel. Make two to 3 slits on each side of the fish. 
Combine coriander powder, cumin powder, salt, black pepper, and fennel powder in a small bowl. Apply on the fish including the slits and the inside cavity.
Mince the garlic, fill the slits as well as the guy cavity. 
Heat oil in a cast iron skillet on high flame, add the onions as well as the cherry tomato. 
Add sliced zucchini as well as green peppers.
Cook for 2 minutes and move the vegetables to one side of the pan.
Add the red snapper. Cook for 2 minutes on each side, add a dollop of butter and pop the pan into the oven. 
Cook for 10 to 12 minutes. 
Remove and squeeze 1/2 a lemon on the fish before serving.