WING IT!!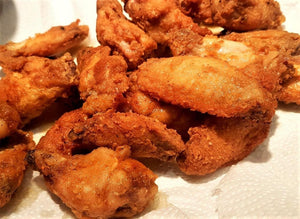 Ain't no thing like a chicken wing. Prepare your palette for this amazing crispy, juicy deliciousness. Any day can be a national chicken wing day with this amazing recipe. 
This will bring you unbridled joy. Enjoy these alone or with your family. 
For the brine -
Water - 1 gallon
Salt - 1/2 cup Kosher
Sugar - 2/3 cup
Peppercorn - 20 pcs
Cumin (Whole) - 2 teaspoon
Cloves - 15 pcs
For the rub - 
Paprika - 1 teaspoon
Garlic powder - 1 teaspoon
Coriander powder - 1 teaspoon
Cumin powder - 1 teaspoon
Onion powder - 1/2 teaspoon
Dried oregano - 1/2 teaspoon
Salt - 1/4th teaspoon
Black Pepper - 1/4 teaspoon

Wings - 3 lbs (Cut into drumettes and flats)
Butter - 1/4th cup

For Frying -
Flour - 1 cup
Spice mix - 1 tablespoon
Oil for frying - 2 cups

Procedure -

1) Warm up water for the brine, add salt as well as sugar. Heat pan, add the peppercorn, cloves, and cumin - dry roast it and add it to the brine.

2) Once the brine has cooled down, empty in a bowl. Add the chicken wings to it. Set aside in the refrigerator for 8 to 12 hours.
3) Set up the sous-vide to 147°F. Remove wings from the brine and pat dry.

4) Mix the dry rub together and apply on the wings. Empty the wings into a ziplock bag or a vac pack bag. Add butter and vac it.

5) Drop the wings in the water and cook at 147°F for 2 hours. Once the timer goes up, remove the wings and set aside. Reserve the wing liquid for sauce.
6) Mix flour and the spice mix together. Toss the wings with the flour to coat.

7) Heat oil in a pot to 350°F. Add a few pieces of wings at a time in the pot. Do not overcrowd the pot to avoid the temperature of the oil to drop. This may result in the wings turning soggy.
8) Fry wings for a minute or 2 on each side. Remove on to a paper towel to soak up excess oil. Repeat process for the rest of the wings.

9) Heat a pan and add the wing liquid. Reduce, add some butter. Use the sauce as a dip for the wings or you can also toss the wings with the sauce to coat.
10) Serve hot!!!!